What does the IPCC say about carbon dioxide removal?
This event has already happened
Scroll down to read documents and information related to it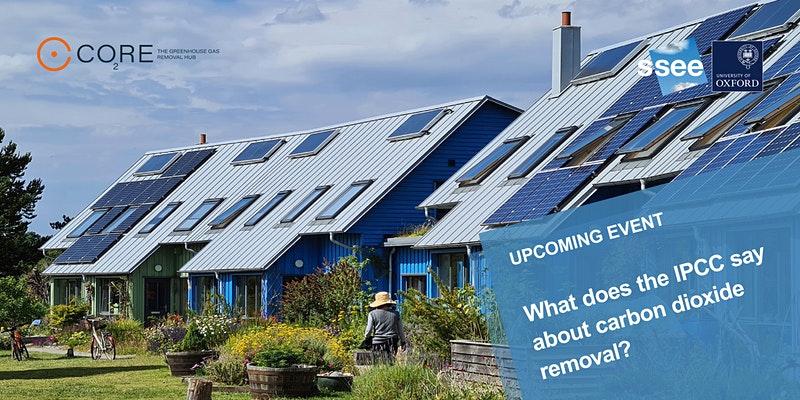 | | |
| --- | --- |
| Date | Tuesday 12 April 2022 |
| Time | 14:00 - 15:00 |
| Location | |
| People | |
| Online | |
On 4 April the Intergovernmental Panel on Climate Change released its major new assessment of climate change mitigation (Working Group III). These assessments form the bedrock of scientific evidence for national and international policymaking. One topic which has seen major developments since the last assessment is carbon dioxide removal, or CDR. CDR is emerging rapidly as part of strategies to reach net zero emissions – and perhaps go beyond. This event is a chance to hear the key CDR messages from the IPCC report directly from the authors themselves, and ask them your questions.
Organised in collaboration with CO2RE, the Greenhouse Gas Removal Hub.
Moderator
Dr Steve Smith (University of Oxford)
Panellists
Dr Oliver Geden (German Institute for International and Security Affairs, SWP & University of Oxford), Lead author, Chapter 12: Cross-sectoral perspectives
Prof Detlef van Vuuren (Netherlands Environmental Assessment Agency, PBL), Lead author, Chapter 3: Mitigation pathways compatible with long-term goals
Dr Annette Cowie (NSW Department of Primary Industries), Lead author, Chapter 12: Cross-sectoral perspectives
Prof Jan Minx (Mercator Research Institute on Global Commons and Climate Change), Co-ordinating lead author, Chapter 2: Emissions trends and drivers
Prof Sabine Fuss (Mercator Research Institute on Global Commons and Climate Change), Lead Author SR1.5, Chapter 4: Strengthening and Implementing the Global Response