Oxford Net Zero Transition Forum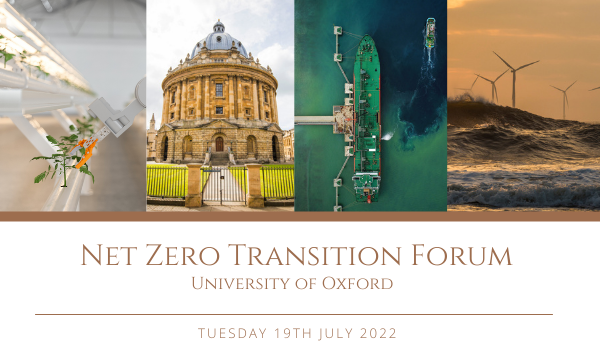 Date
Tuesday 19 July 2022
Time
09:30 - 21:00
Location

Locations

The Levine Building

Trinity College, Oxford, OX1 3PW

Oxford University Museum of Natural History

Parks Road, Oxford, OX1 3PW

Online
The Oxford Sustainable Finance Group, in partnership with Lombard Odier, are organising the first Oxford Net Zero Transition Forum. This one-day conference will deep dive into how we achieve net zero in different key sectors of the global economy and the role of finance in these overlapping sectoral transformations.
A key theme of the forum is a focus on what sector specific net zero pathways mean for financial sector practices, from the investment opportunities that are created through to how to measure the risks of stranded assets and what the implications might be for stewardship and engagement.
Each forum focuses on up to three sectors. The 2022 forum will concentrate on power, shipping, and agriculture. The forum will bring together world-leading experts working to achieve net zero in these sectors, the policymakers and regulators shaping each sector, the innovative companies and corporate leaders disrupting sectors, and finance professionals allocating capital to them.
For each sector we will attempt to unpack the structural drivers of transformation and what financial institutions should be preparing for. The forum will be held at Trinity College's Levine Building on Tuesday 19th July 2022, followed by a reception and dinner at the Oxford University Museum of Natural History
The forum is the day before the two-day Oxford Sustainable Finance Summit 2022, and attendees at the forum will automatically have the option to stay on for the summit. 
There will be a huge amount of very interesting content for us to discuss in an intimate setting together with peers. Our events are always very well attended and demand always exceeds supply. We encourage early applications.
Apply to attend
Apply by sending us details of your position, affiliation, and interest in the topic. We carefully curate each forum to ensure appropriate levels of seniority, representation from different sector, and balance across specialisms and jurisdications.