To search the OxSFG publications archive try your browser's in-page search function (command+F on a Mac, or Ctrl+F in Windows).
2022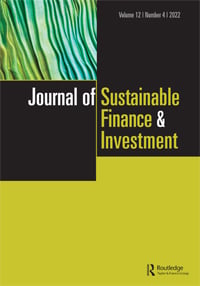 December 2022 |  Ben Caldecott, Matthew McCarten, Christophe Christiaen, Conor Hickey | Journal Article 
We introduce and define a new concept, 'Spatial Finance', as the integration of geospatial data and analysis into financial theory and practice, and describe how developments in earth observation, particularly as the result of new satellite constellations, combined with new artificial intelligence methods and cloud computing, create a plethora of potential applications for Spatial Finance. We argue that Spatial Finance will become a core future competency for financial analysis, and this will have significant implications for information markets, risk modelling and management, valuation modelling, and the identification of investment opportunities. The paper reviews the characteristics of geospatial data and related technology developments, some current and future applications of Spatial Finance, and its potential impact on financial theory and practice.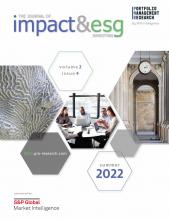 Summer 2022 |  Gireesh Shrimali | Journal Article (Paywall)
Given that climate change is one of the biggest risks facing the real economy as well as the financial industry, there is an urgent need to measure and manage this risk. One way to measure this risk is the carbon exposure of products and their corresponding supply chains. While the process of measuring and managing Scope 1 and Scope 2 emissions is well established, the same cannot be said of Scope 3 emissions. This article first provides an overview of frameworks for measuring and managing Scope 3 emissions in an ideal world, where product-level marginal emission factors are known with certainty. It then lays out the issues surrounding the measurement and management of uncertain Scope 3 emissions. It also discusses the progress made so far on these issues, provides recommendations, and lays out a research agenda for future work.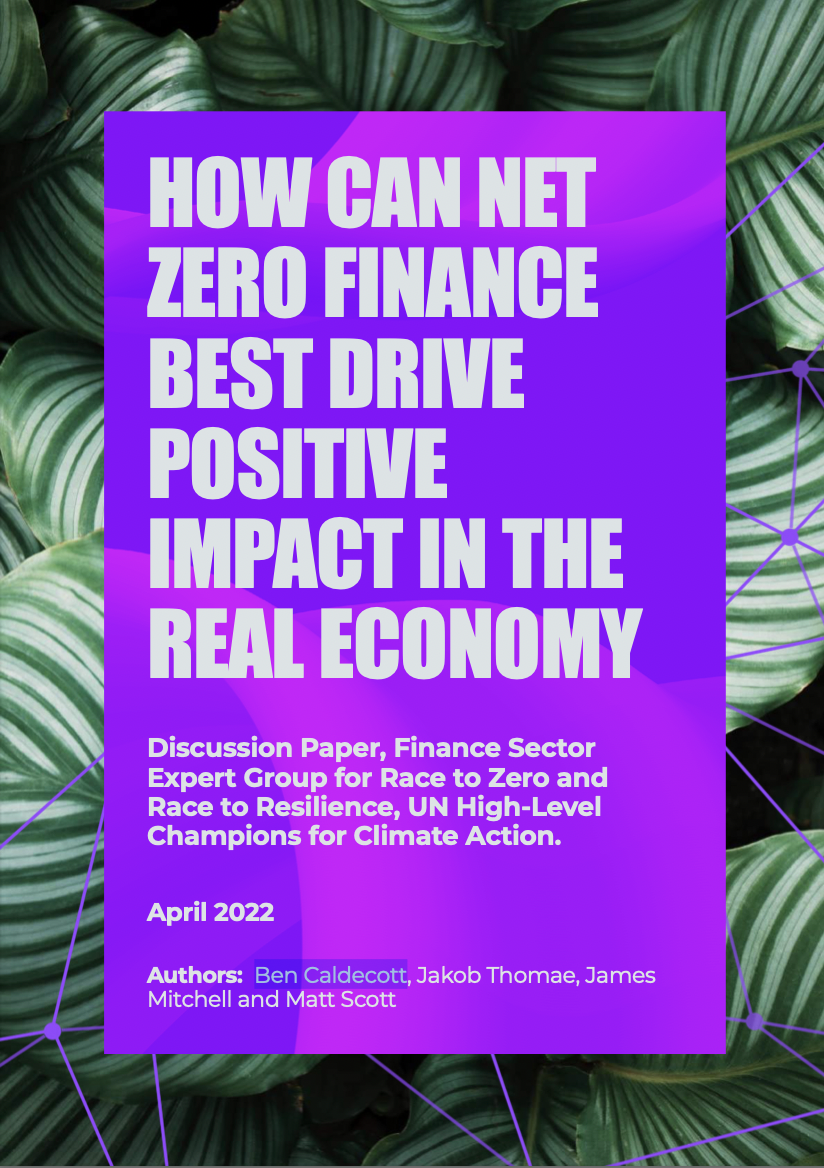 29 April 2022 | Ben Caldecott, Jakob Thomae, James Mitchell, Matt Scott | Discussion Paper
As attention turns to executing new climate-related finance commitments, important nuances are emerging in the application of 'Paris alignment' and 'net zero' to financial institutions and finance sub-sectors as compared to other sectors.

For example, a variety of market participants, civil society organisations, and researchers are highlighting that short-term actions to decarbonise portfolios – such as rebalancing away from fossil fuel companies into technology companies in listed equity portfolios through secondary market transaction – may not be an effective way to support Paris alignment in the real economy.

The actions that financial institutions need to take to drive positive change towards Paris alignment will almost certainly be quite different. But what are they and how should financial institutions design and execute plans to support Paris alignment? This discussion paper seeks to acknowledge these nuances and explore frameworks that may be helpful to support financial institutions in driving outcomes in the real economy – in other words, to 'maximise real economy impact'.

When and how does sustainable finance contribute to a better world? In this paper, we outline the mechanisms through which impact is transmitted from the financial system to the real economy. We argue that, in order to have a positive environmental impact, financial institutions must make a clear and measurable difference in one or more of the following ways: (i) reducing (increasing) the cost of capital for (un)sustainable activities; (ii) increasing (reducing) access to capital for (un)sustainable activities; and (iii) encouraging or enabling sustainable practices by counterparties, such as companies, sovereigns, and individuals. We assess the availability of impact across key asset classes, hypothesising a maximum potential for impact for each. We call for financial institutions, and particularly large universal owners, to integrate the development of "impact budgets" into strategic asset allocation. Future research could usefully consider the implications for impact-oriented portfolio construction in more detail, as well as seeking to develop empirical methods for further testing and quantifying the impact of the different transmission mechanisms discussed here.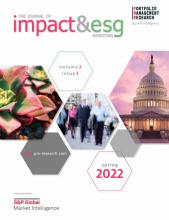 11 April 2022 | Gireesh Shrimali | Journal Article (Paywall)
In the context of reaching our climate targets - for example, the 2°C target set at Paris - the role of transition finance, and therefore transition bonds, is going to be key. This article provides a discussion of the goals, issues, and guiding principles for transition bonds. It first argues that a comprehensive transition bonds framework needs to align with appropriate climate transitions, allow for flexibility in getting to climate goals, and minimize greenwashing. The article then offers a simple transition bond rating framework based on the stringencies of climate targets as well as transition pathways. In this process, the crucial roles of sector-based approaches, offsets, regulations, and data quality are also discussed. In addition, the article sets out a research agenda, including identifying potential transition pathways, developing methodologies for additionality of proposed interventions, and creating regulation to ensure transparency.

Ahead of COP26 in Glasgow, the International Energy Agency (IEA) published its Net Zero Emissions by 2050 Scenario (IEA NZE). The IEA NZE is the first IEA scenario consistent with holding the increase in global average temperatures to 1.5 degrees and provides clear milestones for the future role of fossil fuel energy. This report examines how financial institutions committed to net zero by 2050 can use the IEA NZE to develop financing policies aligned with these commitments. This requires an end to project finance for new fossil fuel reserves, and a requirement that companies implement transition plans ending fossil fuel reserve expansion to be eligible for corporate finance. For power generation, this requires an end to project finance for new coal and a requirement that companies implement transition plans phasing out coal generation by 2030 in advanced economies and 2040 globally, while unabated gas generation needs to be sharply curtailed, by over 90% by 2040. This report then uses cases studies to demonstrate the disconnect between the conclusions of the IEA NZE and the current financing activities of major financial institutions committed to net zero.

18 January 2022 | Xiao Zhou, Ben Caldecott, Andreas Hoepner, Yao Wang | Journal Article
This study empirically investigates the relationship between banks' green lending and their credit risk, and how Chinese green finance regulations contribute to the solvency of individual banks and the resilience of the financial system. Analysing a sample of 41 Chinese banks from 2007 to 2018, we find that the association between a bank's (relative) green lending as a proportion of its overall loan portfolio, and its credit risk, depends critically on the size and structure of state ownership. While the implementation of China's Green Credit Policy reduces credit risk for the major state-controlled banks, it increases credit risk for the city and regional commercial banks. This performance difference appears largely due to information and expertise asymmetries, with the city and regional commercial banks having less access to information and expertise necessary to evaluate the credit risk of green lending. Understanding this phenomenon can help policymakers tailor green finance policies according to banks' characteristics. It also suggests that mechanisms and platforms for the city/regional commercial banks to learn from the major state-controlled banks could be beneficial.
2019
---

9 July 2019 | Ben Caldecott, Elizabeth Harnett | Briefing Paper
Given their size, influence, and long-term investment horizons, Sovereign Wealth Funds (SWFs) are uniquely placed among asset owners to promote and implement the alignment of finance with the Paris Agreement and the Sustainable Development Goals. Yet, to date, sustainable investment has remained on the periphery of SWF investment decision-making. The One Planet Sovereign Wealth Fund Group was established in December 2017. Its founding members are the Abu Dhabi Investment Authority, Kuwait Investment Authority, the New Zealand Superannuation Fund, Norges Bank Investment Management, the Public Investment Fund of the Kingdom of Saudi Arabia, and the Qatar Investment Authority. These six funds together hold approximately USD 3.07 trillion in assets under management as of June 2018, representing around 40% of the sector globally. On the 6th July 2018, the One Planet Group published a voluntary framework outlining principles for integrating climate change into SWF governance and investment processes. These principles are structured around three key themes: alignment, ownership, and integration. In this briefing paper we make recommendations to help guide SWFs in their implementation of the Framework and its principles.

12 June 2019 | Jakob Thomä, Ben Caldecott, Soline Ralite | Working Paper
Policymakers are exploring whether to introduce Green Supporting Factors (GSFs) that would incentivise banks to lend to 'green' activities under capital requirement frameworks. This takes capital requirement frameworks away from their risk-based origins and this move is widely contested. This paper suggests an alternative pathway that satisfies the objective of aligning capital requirements with sustainability, while preserving their core role of supporting risk management. We introduce the concept of Sustainability Improvement Loans (SILs) that could merit lower capital charges as they are lower risk. We define SILs and how they could incentivise sustainability practices as well as reduce risk. The potential pathway to policy application and its estimated effects on banks' capital and profitability is assessed, as well as the extent to which the policy is aligned with the financial stability objectives of central banks and financial supervisors.
2013
---

16 December 2013 | Ben Caldecott, James Tilbury, Yuge Ma | Report
China's demand for coal is changing as a result of environment-related factors, including environmental regulation, developments in cleaner technologies, local pollution, improving energy efficiency, changing resource landscapes and political activism. We look at how this evolving demand picture could then translate into impacts on the coal price and then on the stranded asset risks faced by coal and coal-related assets in Australia - a country that is a large and growing coal exporter to China.

8 October 2013 | Atif Ansar, Ben Caldecott, James Tilbury | Report
The fossil fuel divestment campaign has rapidly gained traction throughout university campuses and elsewhere since its launch. As part of our research we test whether the divestment campaign could affect fossil fuel assets and if so, how, to what extent, and over which time horizons. We also look at the similarities and differences between this campaign and others, such as tobacco and apartheid.

9 August 2013 | Ben Caldecott, Nicholas Howarth, Patrick McSharry | Report
This report maps out environment-related risks in the agricultural supply chain and shows how they might create stranded assets over time. We have systematised the different risk factors and have completed an assessment of where and how risks might affect agricultural assets. We have also completed a high-level Value at Risk (VaR) assessment to give an indication of the magnitudes of capital exposed and to stimulate further work in this area.